Description
Essex Carpet Clash6 2023/24 Championship
Round 1 – 01/10/23
Round 2 – 29/10/23
Round 3 – 26/11/23
Round 4 – 07/01/24
Round 5 – 28/01/24
Round 6 – 25/02/24
Meeting held at Brentwood School Sports Centre.
The track will be laid out on carpet 30m x 18m (conditional to entries), with jumps, bumps and corners to make for fun and competitive days racing. Heated practice to start, then four qualifying rounds ('round by round' basis) followed by 3 legged finals for everyone (this may be shortened to two legged finals dependant on time).
Classes will be 2wd and 4wd buggies. Run to BRCA general rules.
Control tyre will be the Schumacher Cactus (Yellow compound – U6838). Max 2 pairs per class per meeting.  your second set, (if you wish to use), can only be used in the finals.
Your tyres will be marked after your first qualifying round.  Your car must be placed at the allocated place (announced on the day) after each of your runs for marking and scrutineering, (even if you have broken your car).  You may collect your car after you have marshalled.  Failure of car being scrutineered will result in your time being deleted.
You will need to bring your own, table, chairs, extension leads (for power), gloves and hi-vis for marshalling.
There will be a TUCK SHOP selling teas, coffees and snacks, so make sure you have money in order to purchase items.  Bringing your own packed lunch is advised.
A RAFFLE will be held at each meeting, so remember to bring change in order to enter and have a chance of winning some excellent goodies!
ECC Tyre Special
This is a pre order only!  This includes 2 car sets (2wd) of tyres!  2 pairs of rear cactus tyres and 2 pairs of front cut stagger tyres.
Order and we will have them ready for you to collect Sunday morning when the doors open.  Please come and see us at race control, where you can collect them from the supporting shop RDTproducts.
The ECC t shirt…
EssexCarpetClash branding on the front and back.  This is a grey tactical tee shirt, which is breath able and a decent thickness.
Available in all sizes…
Design subject to change…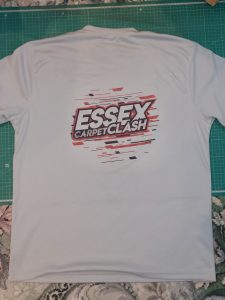 Please note: There are currently no covid rules in place, but should this change, rules will have to be followed… (this will be announced if and when rules come in to place again).  Drivers must bring their own Hi-Viz waistcoats and we advise wearing gloves for marshalling.
Our old Full details about ECC & BRCA COVID-19 policies can be found here and here.  Please note, the above may alter at any time, but fingers crossed it doesn't!

Day format will be as follows:
08.00am     Doors open for pit setup
08.30am     Heated practice starts
09.45am      Drivers Briefing
10.00am      Qualifying starts (4 rounds for all)
14.00pm      Finals start (3 legs for all)
17.00pm      Winners pics and sweet handout / Pack away
For qualifying, ONE installation lap ONLY and you line up.
NO INSTALLATION LAPS FOR FINALS, drive your cars to your grid place to line up!